Usually, there are 2 types of encumbrances, payroll and purchasing.  If the encumbrance is due to payroll, then please email your account manager for more details or use "Contact Us" form.  If the encumbrance is for a subaward/subcontract or for purchase orders, then please follow the steps below:
Go to: FIS Decision Support
Log in using your ID and passphrase
In the top right corner, in "Query Jump: " box type in 1, then press enter
In the "Organization(s)" field, type the 4-digit ORG code that corresponds to your department:

Agricultural & Resource Economics – AARE
Environmental Science & Policy – ADES
Human Ecology – AHCE

OR –
If you know your 7-digit account number, you may enter it in in "Account(s)" box instead of "Organization(s)" and skip to step 6.
On the same page, approximately halfway down, please search for the "Principal Investigator" by selecting the magnifying glass icon to the right of the field

A new search window will open.  Type in your last name or a fragment then press enter.  Find your name, then click on it. 

Click "process query" either at the bottom of the page or in the top right corner.

You should now see your account(s).  Click on the account that shows an encumbrance.

The expenses and appropriations are broken down into various expense categories or Consolidations.  If you see an encumbrance in SB73 or SUB3, then proceed to step 4.  If you see encumbrances in any other categories such as SUBG, SB28, or SUB6, then this is a payroll encumbrance.  Please email your account manager for more details.

At the top left corner, click on "FIS Decision Support".  This should take you to the main screen.

In the top right corner, in "Query Jump: " box type in 46, then press enter

Enter your 7-digit account number, then click "Process Query"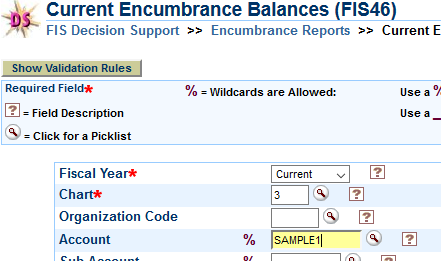 You should see a list of the encumbrances